Clayton Roof Repair - MW Roofing LLC
Call (302) 834-7663 Today for Roof Repairs in Clayton DE 19938

Clayton Roof Repair Company in Delaware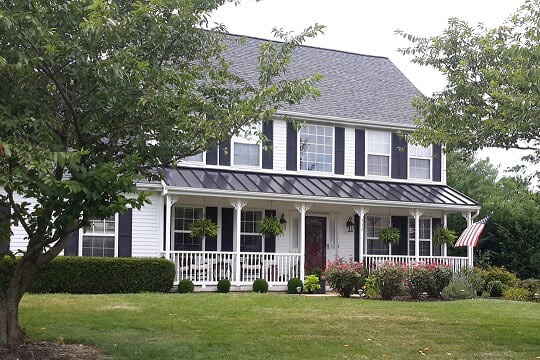 Whether your roof damage is due to storm damage or wear from age, we can complete roof repairs in Clayton DE of any size. Your roof keeps you, your family, and your belongings safe. Whenever you notice any signs of damage, you should call upon MW Roofing to inspect your roof. We will meet your roof repair needs as well as provide you with a warranty. Our roofing company has over 12 years of experience providing service to the residents of Clayton DE, and are incredibly customer-focused.
Whenever you find you have a leaking roof, trust the roofing specialists at MW Roofing to get the job done right. Our roof repair contractors pride themselves on their dedication to solving problems at the source. We will never complete a hasty repair because it puts you at risk to experience another roof leak; we get the job done right, with your best interests in mind. If you are ever unsure whether or not you need roof repairs, call us today and we'll provide you with a roof inspection.
Clayton Roof Repair Estimates
With MW Roofing, you will always receive an honest answer about the treatment your roof damages need. After your initial phone call, your roof will receive a thorough roof inspection and an estimate for absolutely no charge. Our experienced roofing contractors will give you an honest answer regarding whether or not you are in need of a roof replacement or simply a repair. We will also discuss your options for financing and our payment plans.
Most roofing projects completed by MW Roofing do not require a down payment unless you are ordering special materials. Although, payment is due upon completion of your project and your complete satisfaction. Our team is understanding that roof repairs and roof replacements are very rarely planned events. As such, we accept all major credit cards for roofing projects, and offer a number of financing and payment plan options. Call us today for more information and to discuss your free roof repair estimate.
Best Clayton Roof Repair Service in Delaware
At MW Roofing, our team is proud to be one of the few CertainTeed 5-Star Select Shingle Master roof repair contractors in Delaware. This is the highest accreditation available in the roofing contractor industry. In fact, only about one percent of roofers in the country are awarded with this honor. In order to achieve this accreditation in the Clayton DE area, our roof repair experts must pass both written exams and in-field testing. Additionally, our roofing company must be licensed and insured, customer-focused and ethical in conduct, as well as meet the ever-changing credential requirements.
When you choose to repair your roof with MW Roofing, you are receiving service above and beyond the industry standard. With our roof repair contractors, we will never rely on unsupervised subcontractors or drive-by project managers. In fact, there will be a full-time, English-speaking project manager on-site throughout your project. Upon completion, you will always have an exit interview where a supervisor will inspect your roof to evaluate the quality of the completed work. At this time, we will also answer any questions you may have, and deliver your warranty paperwork.
Beyond Clayton Roof Repairs, We Also Provide:
Roof Installations
Roof Replacements
Siding Installation
Window Replacements
Door Replacements
Attic Insulation
Downspout & Gutter Installation
Interior Remodels
Decks & Season Rooms
Metal Roofing Installations & Replacements
If you are in need of Clayton roof repairs or are searching for Clayton roof repair companies near Clayton DE 19938, call MW Roofing LLC today at (302) 834-7663 or fill out our contact form here.