Townsend Metal Roofing - MW Roofing LLC
Call (302) 834-7663 Today for Metal Roofing in Townsend DE 19734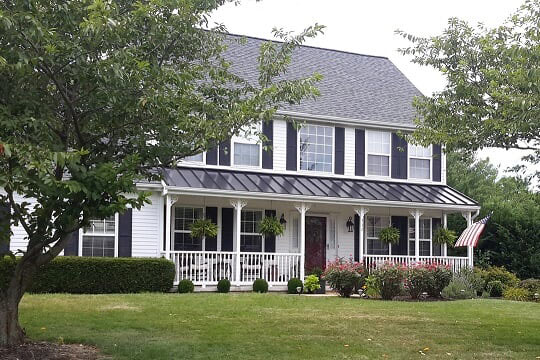 Townsend Metal Roofing Contractors in Delaware
Have you been interested in installing metal roofing on your home, but haven't found the right roofing company to provide you with the answers or service you desire? The expert metal roofing contractors at MW Roofing are licensed, insured, and determined to give you the honest answers you deserve. Many individuals in the Townsend DE area don't consider metal roofing due to the misconception that it will be noisier than a traditional shingle roof. The truth is, when properly installed by MW Roofing, your metal roof will actually be quieter during inclement weather.
With MW Roofing, you can always trust that you are receiving an honest answer about your metal roofing. Whether you are in need of a few small repairs after a particularly bad storm in the Townsend DE area or you are in dire need of a roof replacement, our experienced metal roofing contractors will weigh which roofing options are best for your needs and budget. Our metal roofing company offers both financing and payment plans in order to best cater to your individual situation.
Townsend Metal Roofing Benefits
Metal roofing has a number of benefits when compared to other roofing systems. For example, when properly taken care of, metal roofing can last a lot longer than traditional shingle roofing in the Townsend DE area. When you find yourself in need of a roof replacement, call MW Roofing to learn whether or not metal roofing is the right choice for your home. Our metal roofing company is customer-driven, and you will always receive honest answers that keep your benefits in mind.
In addition to its longevity, metal roofing is also significantly more fire resistant than asphalt shingles. Upon being struck by lighting or other scenarios involving sparks or flames, a metal roof will not catch fire. Metal roofing is also associated with energy efficiency. This is because it reflects heat from the sun, which can reduce cooling costs during hot, Delaware summers. For individuals in the Townsend DE area interested in environmentally friendly products, metal roofing is another great investment, In addition to being made of a twenty-five percent recycled materials, metal roofing is also completely recyclable at the end of its lifespan as roofing.
Townsend Metal Roofing Company in Delaware
At MW Roofing, you can always be sure that your best interests are kept in mind. Each of our metal roofing contractors must pass written and in-field exams that test their knowledge of roofing products and procedures. Additionally, our metal roofing contractors will always have an English-speaking project manager present throughout the duration of your roofing project. We will never rely on unsupervised subcontractors or drive-by project management for any of our clients in Delaware.
The metal roofing contractors at MW Roofing are knowledgeable about a variety of roofing systems available in Delaware, including asphalt roofing, slate roofing and even flat roofing. Our roofing company offers financing and payment plans to all of our clients in the Townsend DE area. Additionally, our roofers will not request payment until you are completely satisfied with your job. Our project managers will always address all of your concerns and meticulously inspect the craftsmanship of your roofing project
In addition to Townsend Metal Roofing Installations, We Also Provide:
Roof Installations
Roof Replacements
Siding Installation
Window Replacements
Door Replacements
Attic Insulation
Downspout & Gutter Installation
Interior Remodels
Decks & Season Rooms
Metal Roofing Installations & Replacements
If you are searching for information about Townsend metal roofing or are in need of a Townsend metal roofing contractor near Townsend DE 19734, call MW Roofing LLC today at (302) 834-7663 or fill out our contact form here.